About Us
about webmaster Goragod.com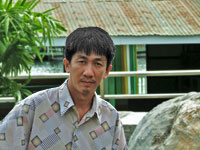 กรกฎ วิริยะ

(

Goragod Wiriya

)


Web Developer



Owner and webmaster at Goragod.com groups.
https://www.goragod.com
http://www.siamlearning.org
http://www.webshopready.com
http://www.g-th.com

The purpose of a website to disseminate knowledge. And learning resources on your own. Including the exchange of ideas through the website. Currently, I have focused on designing a website with PHP and AJAX in particular.


Our product and services.
AJAX Chatroom
GBLOG Web blog on the site and ready for service.
Forum for free. For free forum service.
Multi-Color Forum. Skins can have a board and a variety of categories to 12 different boards (up to 99 types).
HI5 promote web promote hi5.
And much more please ask.
Design Website Development with PHP AJAX XHTML CSS web standards Standard.
For other sites. To contact us.
The transfer of money or donations. To the site to help design via